National and International Fulfillment Network
Distribution Management is able to reach 99% of the U.S. within one to two days from its four strategically located fulfillment centers (Dallas, TX, St. Louis, MO, Fresno, CA, and Carlisle, PA) via cost-effective ground delivery.* Our Chicago, IL Foreign Trade Zone (FTZ) is available to provide financial benefits for international needs and shipping services are available with guaranteed delivery by end of next possible business day (terms and conditions apply). *Achieved when utilizing all four fulfillment centers.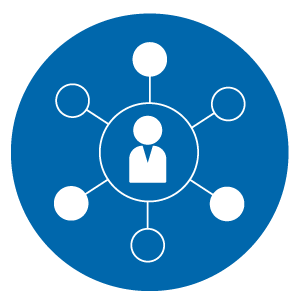 Omni-Channel Solutions
Today's omni-channel world provides endless opportunity. But the logistics challenges can be overwhelming. Our advanced drop-ship capabilities provide same-day order fulfillment for all your direct-to-consumer and marketplace orders along with value-add services that enhance your brand. Likewise, our retail expertise will save you time and money. We understand the requirements from front-end integration to out-the-door compliance. Our investments in both direct integrations and connections with leading industry EDI providers will allow you to focus on growing your business within your current channels and expand, without restriction, into new channels. Bottom line, no matter your channel mix, we have you covered.
Technology Integration
Order automation through integration is the key to providing same-day shipping and highest possible order accuracy levels. Distribution Management offers many options to connect via EDI and web-services either through direct integration or through industry-leading EDI and web providers. Our dedicated IT development staff ensures the integration process is streamlined.
On-Demand, Real-Time Reporting
The Distribution Management portal provides 24/7 access to critical data and information in real-time including inventory, shipping, tracking and much more. Customers with full system integration are able to access the same information in their own system. This simple, intuitive portal ensures you have access to the information you need anytime and anywhere via the web.
Brand Building Marketing Capabilities
Representing your brand is core to our business. When you partner with Distribution Management, your drop-ship orders will feature your brand through available custom packaging, branded packing materials and optional branded shipping notifications. Our Instant Insert program allows you to include high impact, dynamic marketing collateral to promote your brand and your products with every order.
Distribution Capabilities:
Distribution Center Location

1495 Dennison Circle, Suite 200, Carlisle, PA 17015

 

Covers:

Connecticut, Delaware, eastern Ohio (Cleveland), southern Maine, Massachusetts, Maryland, southern New Hampshire, New Jersey, upstate and southern New York (NYC), Pennsylvania, Rhode Island, northern West Virginia, Virginia and Washington D.C.

 

Maine

Portland and surrounding cities.

 

New Hampshire

Concord, Dover, Keene, Manchester, Nashua, Portsmouth and Rochester.

 

New York

Buffalo, Rochester, Syracuse, Utica, Albany, Binghamton and New York City.

Distribution Center Location

4695 Clover Haven Street, Suite 100, Dallas, TX 75227

 

Covers:

Oklahoma, most of Texas, portions of Arkansas, Kansas and Louisiana.

 

Oklahoma

Lawton, Oklahoma City and Tulsa.

 

Texas

Abilene, Austin, Beaumont, Dallas Fort Worth, Houston, Lubbock, Longview, Nacogdoches, Odessa, Plano, San Angelo, San Antonio, Waco and Wichita Falls.

 

Arkansas

Hot Springs, Little Rock, Louisiana, Alexandria, Monroe and Shreveport.

 

Kansas

Kansas City and Wichita.

Distribution Center Location

1001 Premier Parkway, Saint Peters, MO 63376

 

Covers:

All of Iowa and Illinois, most of Missouri, and portions of Kansas, Kentucky, Indiana, Wisconsin, Nebraska, Minnesota and Tennessee.

 

Including

St. Louis, Chicago, Kanasas City, Indianapolis, Memphis and Nashville.

Distribution Center Location

3825 South Willow Ave., Suite #103, Fresno, CA 93725

 

Covers:

California, western Nevada (Reno), Las Vegas, portions of Oregon, Arizona and Washington.

 

Arizona

Phoenix, Tucson, Prescott, Sedona and Flagstaff.

 

Oregon

Eugene, Portland and Salem.

 

Utah

Cities in Salt Lake, Utah, Cache, Weber, Morgan and Davis Counties, Cedar City, St. George, Beaver, Tooele, Heber, Coalville and Vernal.

 

Washington

Olympia, Seattle, Spokane, Richland, Tacoma and Bellingham.